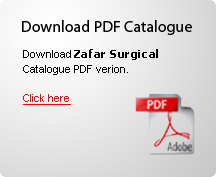 Learn about exciting product inform-
ation by subscribing to the Zafar
Surgical newsletter

| | | |
| --- | --- | --- |
| | About Us | |
ZAFAR SURGICAL was established to provide our valued clients with finest quality hand crafted Surgical, Dental, Veterinary and Tungsten Carbide Instruments. We always strive for a "TOTAL QUALITY GOODS ", applied at every stage of manufacturing process which are totally in-house controlled. Out strategy is to deal Fairly, Straight Forward, Honestly, Sincerity, Truthfully.
Following are some of the processes that are completed within the manufacturing plant in different departments or sections.
Forging
The company has its own forging section where Forgings are made through Drop Hammer process by seasoned operators using Dyes. The forgings later are put through the process.
Milling
Initial processes like Drilling / Broaching / Grinding / Ratchets / serration teeth, box cutting are done on the Milling machines, For this, top-quality cutters are used.
Heat Treatment
We have our own Heat Treatment Department , in which hardness of a steel in maintained according to the use/working requirement of an instrument.
Tungsten Carbide
T.C Tips and the soldering material is imported from Germany and England to ensure matchless quality.
Electro-Polishing/ Sandblasting/ Gold Plating
We use imported chemicals for MIRROR and SATIN finish. For sandblasting our instruments, we use the machines as well as the sandblasting material imported from England .Our Gold-plating Department is manned by the highly trained technicians, and is equipped with the latest machinery where excellent quality (German) gold material is used for our instruments.
Etching & Packing
All instruments are packed, labeled and stamped according to the demand and specifications ofcustomer. Normally, we pack individually in poly bag and further 12 pieces in one box mentioning outside with Part Number, Description and Lot Number.
We provide instruments according to the demanded specifications in terms of materials, shape and dimensions.
We use three kinds of stainless steel,
German
Japanese
Pakistani
We can also use the material as per our customer requirements. We always cordially welcome our valued customer's opinions, suggestion and recommendation. We give replacement against defective goods, if the malfunction occurred at our end.